About Us
Located just west of downtown Orlando in Clermont, Swiss Fairways golf course utilizes the wide open and hilly terrain that is typical for that area, but uncommon throughout the rest of the state. Large greens welcome low handicappers while strategic bunkering is incorporated into the layout to add some challenge. There are over a seventy five sand traps in total and 10 water hazards come into play. Swiss Fairways Golf Course has a relaxed, casual atmosphere that is far from the typical country club environment.
Par, yardages and course ratings
| | | | | |
| --- | --- | --- | --- | --- |
| Tee | Par | Yardage | Rating | Slope |
| Back | 72 | 6725 | 74 | 135 |
| Middle | 72 | 6118 | 72 | 135 |
| Forward (W) | 72 | 4690 | 72 | 120 |
At a glance
Holes: 18
Designed by: Steve Nugent
Type: Public
Built in: 1991
Golf Season: Year Around
Visitor Policy: Open
Tee times welcomed: Search tee times
Practice facilities
Driving range: Yes
Putting green: Yes
Teaching pro: Yes
Services
Pro: Yes
Rental clubs: Yes
Carts: Yes
Prices
Week days: $12 – $22
Weekends: $12 – $22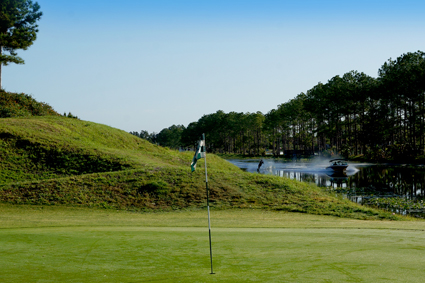 With a name like Lake County, it should be no surprise what type of hazard you can routinely expect to encounter on the two dozen golf courses in this Central Florida locale.
Swiss Fairways of Clermont, Fla., is no different in that regard. Holes 2, 3, 10, 11, 12, 13, 14, 15 all feature water hazards; however, it's the signature second hole that offers a different twist on this traditional golfing peril.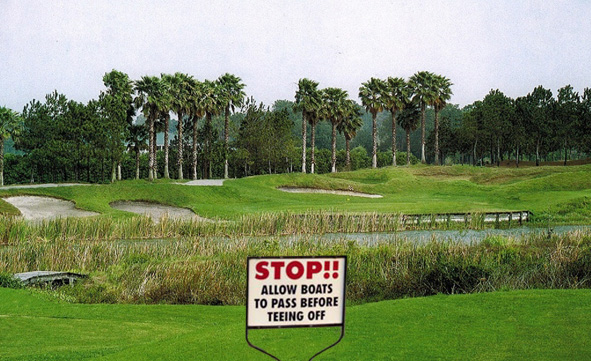 From an elevated tee box, a precise shot is needed for this short par 3 for more reasons than the typical goal of a hole in one. While an undulating green and several menacing sand traps await golfers, the small lake separating the tee box and green sets the stage for this one-of-a-kind hole.
The lake, and several others throughout the course, are no ordinary lakes, but man-built to serve the nearby Swiss Ski School. The school is a training ground for aspiring and professional water skiers and wakeboarders. So, when attempting a shot on the second hole, remember to do as the nearby-posted sign recommends, "Stop! Allow boats to pass before teeing off."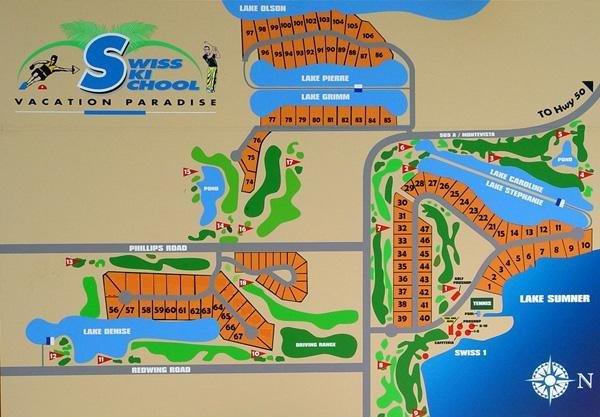 "It's a great championship layout, and it is a unique golf course with water skiers coming into play."
While water dominates the landscape of Swiss Fairways, the course is much more than a frequent challenge with water hazards. More than 75 sand traps dot the links as well as 4 par 5 with more than 1,200 yards between them. To say the least, the par 72, 6,100 yard course is anything but a pushover.
"We have professionals that play here through the year and I haven't seen too many scores in the 60s","From the back tees you have to play a good game just to reach the 70s. From the middle tees, although it is still challenging, it is really a fun track to play. Overall, for its value, I think this course is one of the more interesting in Central Florida."